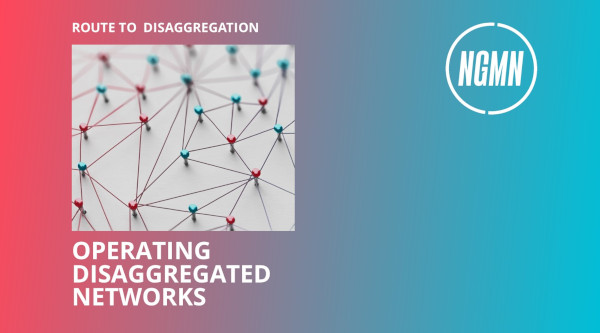 Managing the Route to Disaggregation
Disaggregation is a key topic for mobile network operators and the entire industry. For MNOs and their CTOs, one of the most burning questions is how to master the operation of disaggregated networks.
Therefore, one of our core projects of this strategic pillar is "Operating Disaggregated Networks" – ODiN. This pillar also embraces network automation as well as cloud native projects.
The objective of this project is to focus on the end-to-end operating model. The project ODiN will consider, amongst others, the following key aspects: processes, technology/tools and skill requirements. It will also provide guidance towards the industry players regarding roles and opportunities provided by disaggregation.
CTOs need to start preparing now for future-proof operating models that are built on:
Orchestration of powerful ecosystems of solution partners
Openness and flexibility to integrate new partners and technologies
Highly diverse set of skills and capabilities to drive innovation and efficiency
Why? Because disaggregating or breaking the network components into more parts and opening the interfaces will allow more companies, new and smaller ones, to develop solutions as well as hardware and software products. This will allow faster development cycles as more minds, teams and companies are working towards one goal – improving solutions, performance, making the network more efficient and ultimately improving customer experience. This implicates faster development and quicker time to market of new functions, features and products.
However, to master disaggregation, including to master most efficient and performant operation of disaggregated networks, requires the introduction of new processes, skills and tools, among other.
Collaborating in the pre-competitive environment, our ODiN project will generate valuable input for MNOs and the entire ecosystem to master that challenge and also support the selection of most fitting operating models,  related to MNO's specific situation.
The NGMN projects will enable vendors to develop better and more efficient products. Operators will extremely benefit as technology will keep on getting better in a shorter span of time. In addition, disaggregation will also allow more and better customisation of products based on the specific needs of each operator.
For additional insights, please listen to three of our member project leads representing the regions of Americas, Asia and Europe and what they share on #DisaggregatedNetworks and #NetworkAutomation and their regional characteristics. Our "Operating Disaggregrated Networks" Panel Discussion with Carlos Fernandes (Deutsche Telekom), Lennart Olaivar (Smart/PLDT) and Sebastian Thalanany (UScellular) was streamed on Wednesday June 30th on TelecomTV. Please find the on demand recording here:
https://www.ngmn.org/wp-content/uploads/210630-TelecomTV-ODiN-Panel.jpg
333
600
admin
https://www.ngmn.org/wp-content/uploads/ngmn-logo-1.svg
admin
2021-07-08 17:13:28
2021-07-09 08:37:57
Managing the Route to Disaggregation