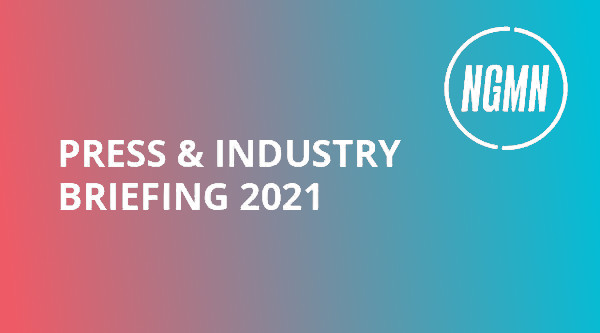 NGMN Press And Industry Briefing
During the last year, NGMN went through a significant transformation – jointly driven by our new Chairman of the Board Arash Ashouriha from Deutsche Telekom, our new CEO Anita Doehler, as well as by the entire NGMN Board.
Disaggregation, cloudification and virtualisation, amongst others lead to significant changes in the industry and the whole ecosystem requiring operators and the entire value chain to change in order to successfully manage these challenges. Hence, we felt a strong need to transform our strategy and focus topics.
We decided to build upon our strengths and remain operator driven with a focus on requirements level.
Together with the entire NGMN Board, we actively developed and approved our New Strategic Focus Topics, addressing the industries' main challenges today and in the next years.
Alongside with projects supporting 5G's full implementation, the focus of the NGMN Work Programme in 2021 and beyond is on three main equally important pillars with different time horizons:
1. Mastering the Route to Disaggregation with a focus on the End-to-End Operating Model
Disaggregation is a key topic for mobile network operators and the entire industry.
For MNOs and their CTOs, one of the most burning questions is how to master the operation of disaggregated networks.
Therefore, one of our core projects of this strategic pillar is "Operting Disaggregated Networks" – ODiN. This pillar also embraces network automation as well as cloud native projects.
2. Green Future Networks
Sustainability is a topic of general and global concern gaining increasing attention from many companies.
The "carbon handprint" or "enabling effect" provided by the ICT sector can efficiently contribute to lower the "carbon footprint" of a high impact industry. ICT represents 2% of the worldwide greenhouse gas emissions according to the ITU with mobile and fixed networks representing 24% out of the ICT emissions.
Our Green Future Networks project focuses on the identification and mitigation of environmental impacts generated by the network part of the ICT sector such as:
Sustainability Challenges, Initiatives in Mobile Networks and End-to-End Service Footprint
Network Equipment Eco-Design
Network Energy Efficiency and
Metering
3. 6G
NGMN has a proven track record in substantially paving the way for 4G's and 5G's success, its mass-market and end-user adaptation. We are determined to provide the same impact for 6G, in order to achieve harmonised global standards and to contribute to a healthy global ecosystem for the benefit of end-users.
As a global organisation representing the entire value chain, NGMN is set to take the lead in providing impactful guidance for global 6G activities responding to the needs of end users, societies, mobile network operators and the ecosystem as a whole.
We published the first 6G White Paper focusing on the 6G Drivers and Vision in April this year, in which NGMN Operators identify the key drivers for 6G and outline our vision for 6G and the future transition of networks enabling differentiated services with expanded market opportunities and novel experience. Furthermore, the paper outlines the key challenges to be considered in a journey towards 6G, and emphasises the need for a healthy and unified global ecosystem and for global standards.
This is the first of a series of deliverables that NGMN will publish within the next years. In the next steps, use cases and end-to-end system requirements will follow.
Our New Brand
In addition, we have introduced a new NGMN brand that builds upon and extends our new strategy.
The new NGMN is fresh and energetic, standing for the duopoly of our brand idea of unity and practicability. The dual colour scheme symbolises human touch (red) and technology (blue). We unite our human touch with technology! Our new logo contains several nice features, underpinning our new way of working. Curious to find out more?
Discover our transformation and access the TelecomTV recording of the "NGMN Press & Industry Briefing" with the following NGMN Board member participants:
Arash Ashouriha (SVP Group Technology Innovation, Deutsche Telekom and Chairman of the NGMN Board)
Carlos Fernandes (VP Group Technology Innovation, Deutsche Telekom)
Anita Döhler (CEO, NGMN Alliance)
Yuhong Huang (Deputy General Manager China Mobile Research Institute, China Mobile)
Luke Ibbetson (Head of Group R&D, Vodafone)
Michael S. Irizarry (EVP and CTO Engineering and Information Technology, UScellular)
Emmanuel Lugagne Delpon (SVP Orange Labs Networks, Orange)
For further information please download the NGMN Press & Industry Briefing presentation here.
https://www.ngmn.org/wp-content/uploads/Key_Visual_Press_and_Industrie_Briefing_2021_600x333.jpg
333
600
admin
https://www.ngmn.org/wp-content/uploads/ngmn-logo-1.svg
admin
2021-07-03 08:02:21
2021-07-06 13:32:25
NGMN Press And Industry Briefing