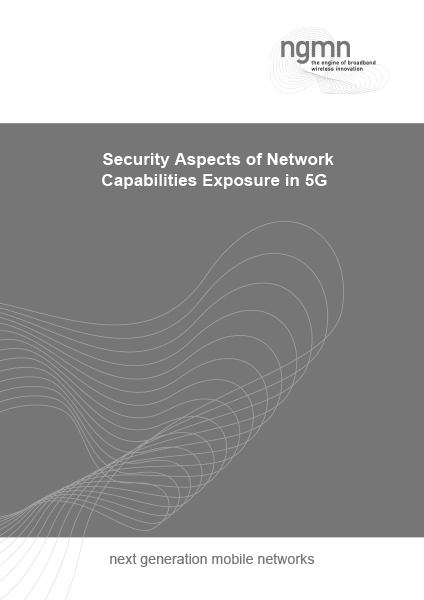 Security Aspects of Network Capabilities Exposure in 5G
5G network is expected to expose some of its capabilities to 3rd parties in order to catalyze the creative services based on them. The exposed network capabilities should thus create new business opportunities, but may also introduce new security risks. The security considerations depend on the exposure scenarios, the local regulation constraints, business models, and trust/liability models among the service user, the network capability provider (i.e., the network operator), and the network capability consumer (i.e., the 3rd party).
The scope of this document is:
To identify different network capabilities exposure scenarios;
To investigate and propose security requirements for these scenarios;
To investigate the exposure of security capabilities and present and evaluate the corresponding use cases.
The main purpose of this document is:
To help the network operators and their partners to find secure and beneficial ways of exposing the network capabilities;
To influence the 5G-related standardization work in 3GPP (in particular, in SA3, SA1, SA2 and SA6) as well as in other SDOs.
https://www.ngmn.org/wp-content/uploads/180921_NGMN-NCEsec_white_paper_v1.0.jpg
600
424
datenfluss
https://www.ngmn.org/wp-content/uploads/ngmn-logo-1.svg
datenfluss
2018-09-21 11:22:29
2021-06-22 15:40:28
Security Aspects of Network Capabilities Exposure in 5G