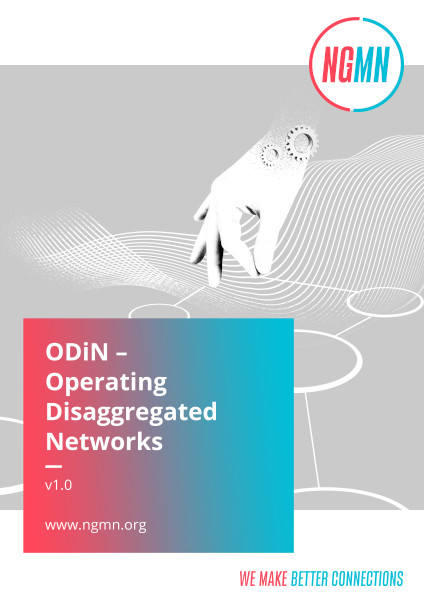 ODiN – Operating Disaggregated Networks
With network disaggregation, mobile network operators along with their partners are facing a major paradigm shift.
It promises a great deal of prospects, including the mere ability to respond to new demands of socio-economic transformation, of increasingly mobile, connected and smart societies, and automated industries. This paradigm shift, however, comes with a wide range of challenges.
This publication explores the appealing opportunities and the expected challenges arising from the disaggregation of mobile networks.
We put an emphasis on the perspective of mobile network operators and expected benefits such as:
lower barriers to enter the market
a more resilient ecosystem and supply chain
enabled increased competition and innovation
agility and flexibility
As well as expected challenges such as:
increasing complexities in interoperability and in
system integration and
in achieving efficient and resilient operation
All these aspects lead to the need for a significant operating model transformation.
Going forward, we will develop blueprints for end-to-end operating models, enabling operators to make their individual right choices, and to address the industry to develop solutions for identified gaps.
With our ODiN project we invite the entire NGMN Partnership – vendors, system integrators and other interested parties – to jointly work on operating model requirements, analyse potential gaps and work on industry solutions to resolve the identified challenges. The project will also work with other relevant organisations and submit requirements to the industry.
https://www.ngmn.org/wp-content/uploads/210927-NGMN-ODiN-White-Paper-Cover.jpg
600
424
admin
https://www.ngmn.org/wp-content/uploads/ngmn-logo-1.svg
admin
2021-10-05 09:30:12
2021-10-05 10:37:43
ODiN – Operating Disaggregated Networks