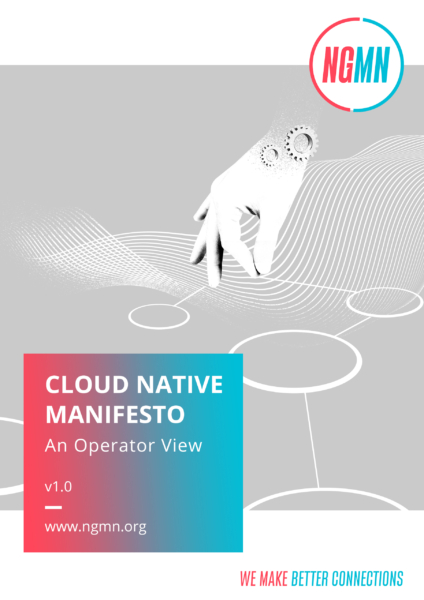 NGMN publishes Cloud Native Manifesto
Setting industry's call to action to drive cloud native adoption

Frankfurt, Germany, 13 September 2023. Today, the Next Generation Mobile Networks Alliance (NGMN) published the "Cloud Native Manifesto: An Operator View". This important publication provides key principles and requirements for Cloud Native Telecom from an operator's point of view, and a clear view on the focus required by the industry in order to accelerate the adoption of cloud native solutions in mobile networks. "Cloud Native" refers to a way of designing and operating applications, network functions and services in an open and flexible environment with the intention to enable greater efficiency in operations and faster time to market for new services, thereby enabling operators to meet their customers' needs. 
"Given the strategic impact of the move towards cloud native, the already experienced and foreseen implications in its adoption for operators, and the multiple options and paths provided by industry players, it is the belief of the NGMN Board that a clear position on cloud native is required," said Arash Ashouriha, Chairman of the NGMN Board and SVP Group Technology at Deutsche Telekom. "With this publication – written by the NGMN Board and invited operator experts – we provide that steering to the industry by outlining a clear set of prioritised calls to action, which, once addressed, will drive the migration at scale towards cloud native network workloads, for the benefit of the ecosystem and end-users", he added. 
"Whilst the industry is embracing cloud native as a paradigm to boost efficiency and enhance flexibility for current and future networks, it is clear that several issues remain, which will hamper the objective to achieve scale deployment – unless these are urgently, consistently and cohesively addressed through an industry wide effort" said Mauro Costa, NGMN Board Member and Director of Network Cloud and Continuous Delivery at Telia Company. "In particular, together with the entire industry, we need to ensure that solutions can be truly cloud native and multi-vendor and that we have the tools and processes in place to enable these" he added. 
On the journey to highly flexible, sustainable, and resilient networks for the future, the NGMN Board believes in applying the following cloud native principles to all layers of network infrastructure, applications and services*: 
Decoupled infrastructure and application lifecycles over vertical monoliths

 

'API first' over manual provisioning of network resources

 

Declarative and intent-based automation over imperative workflows

 

GitOps** principles over traditional network operations practices

 

Unified Kubernetes (or the like) resource consumption patterns over domain-specific resource controllers

 

Unified Kubernetes (or the like) closed-loop reconciliation patterns over vendor-specific element management practices

 

Interoperability by well-defined certification processes over vendor-specific optimisation. 



Through its Operating Disaggregated Networks (ODiN) project, NGMN continues to shape and develop processes to enable the industry – operators and vendors – to efficiently manage the full lifecycle of disaggregated networks. The Cloud Native Manifesto will play an important role in advancing this work of NGMN to deliver a set of operating model blueprints for disaggregated networks. The ODiN project, led by Deutsche Telekom and co-led by Bell Canada and Smart/PLDT, working with the entire value chain at NGMN, will publish its next recommendations at MWC2024.   
"As an industry alliance, we focus on collaboration, to unlock the smartest opportunities and to solve the biggest challenges the industry faces", said Anita Doehler, CEO NGMN Alliance. "With this manifesto, coupled with the work of our ODiN project, we are providing a solid foundation for the industry to move forward at pace with adopting this key technology", she added. 
Special acknowledgements go to the following Operator Members, who made significant contributions to the development of this publication: Bell Canada, BT, Chunghwa Telecom, Deutsche Telekom, Orange, Smart/PLDT, Telia, TELUS, Turkcell, Vodafone. 
The full Cloud Native Manifesto can be downloaded here
* Does not imply order of priority
** Everything as code, single point of truth, immutable source of trust
About the NGMN Alliance
The NGMN Alliance (NGMN) is a forum founded by world-leading Mobile Network Operators and open to all Partners in the mobile industry. Its goal is to ensure that next generation network infrastructure, service platforms and devices will meet the requirements of operators and ultimately will satisfy end user demand and expectations. The vision of NGMN is to provide impactful industry guidance to achieve innovative, sustainable and affordable mobile telecommunication services for the end user with a particular focus on Mastering the Route to Disaggregation / Operating Disaggregated Networks, Green Future Networks and 6G, whilst continuing to support 5G's full implementation.
NGMN seeks to incorporate the views of all interested stakeholders in the telecommunications industry and is open to three categories of participants/NGMN Partners: Mobile Network Operators (Members), vendors, software companies and other industry players (Contributors), as well as research institutes (Advisors). NGMN invites all parties across the entire value chain to join the Alliance in these important endeavours.
https://www.ngmn.org/wp-content/uploads/Cloud_Native-Manifesto-1.jpg
2560
1810
Mirella
https://www.ngmn.org/wp-content/uploads/ngmn-logo-1.svg
Mirella
2023-09-13 11:48:03
2023-10-12 13:50:15
NGMN publishes Cloud Native Manifesto