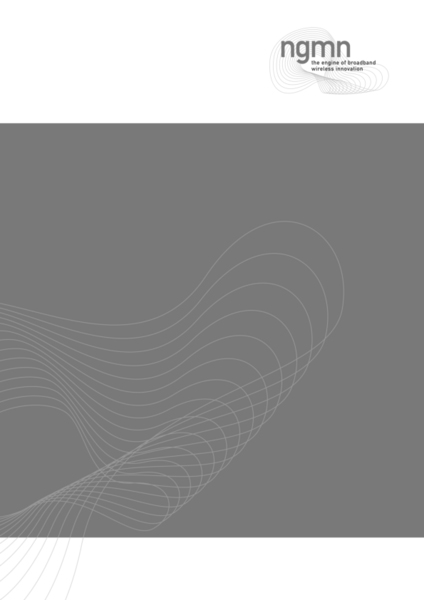 NGMN Requirement Metrics and Deployment Scenarios for 5G
NGMN sent a Liaison Statement to 3GPP on December 4th 2015.
Earlier this year, the NGMN Alliance published its 5G White Paper [1] providing consolidated 5G operator requirements. In its June Forum and Board meetings, NGMN has launched a 5G-focused work-programme that will build on and further evolve the White Paper guidelines with the intention to support the standardisation and subsequent availability of 5G for 2020 and beyond.
A key activity in the work-programme is the Requirements and Architecture (P1). The objective of P1 is to provide timely, well informed technical requirements and architectural principles to the relevant SDOs & ITU-R. P1 focuses on end-to-end system and refining and prioritising results from the NGMN 5G White Paper. Another key aspect will be the interaction with vertical industry representatives in different regions to identify and validate requirements.
The NGMN Requirements and Architecture (P1) is currently working on the mapping of some NGMN whitepaper requirements to KPIs relevant to 3GPP TSG RAN. The attached document is a summary from the ongoing NGMN P1 work, focusing mainly on key performance metrics and representative deployment scenarios. NGMN would like to point out that the work has so far mainly focussed on eMBB, and that it is still investigating requirements for new verticals and in particular mMTC and URLCC. Therefore it is anticipated that there may be further requirements/KPIs developed as that work matures.
NGMN asks 3GPP TSG RAN to consider the requirements contained in the NGMN 5G white paper and the further proposals for representative deployment scenarios and key performance metrics in the attachment as an input to the upcoming study to define the scenarios and requirements for 5G RAN. In addition, NGMN informs 3GPP TSG RAN about the intention to keep 3GPP TSG RAN updated on our future NGMN 5G work-programme and to provide further elaboration of representative deployment scenarios and requirements as they become available. The NGMN Alliance is willing to pursue further discussions to assist 3GPP in defining the scenarios and requirements, so as to maximize the ability of the new technologies defined by 3GPP to address the NGMN 5G vision.
https://www.ngmn.org/wp-content/uploads/NGMN_Publication.png
600
424
datenfluss
https://www.ngmn.org/wp-content/uploads/ngmn-logo-1.svg
datenfluss
2015-12-04 12:04:25
2019-08-27 12:08:21
NGMN Requirement Metrics and Deployment Scenarios for 5G